The initial launch
After a few months of work we were ready to release the first version. We presented the prototype to a chosen few and the initial reactions were extremely positive. Since the point of this project wasn't to make money, we went with zero budget marketing. We decided to submit Movieo to three popular sites who's users would appreciate this kind of product: Reddit, Hacker News, and Product Hunt.
We beefed up our server stack expecting a high amount of traffic, created the submissions, and went out for a beer.
We checked our real-time analytics after ordering drinks.
500 visits.
Upvotes on all three sites started mounting. We kept checking analytics.
1,000 visits…2,000…10,000.
Comments and email started pouring in:
People started tweeting: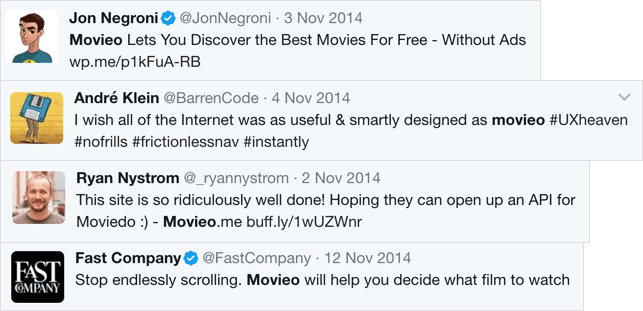 Several articles were written...
By the end of the month almost half a million people tried our product. We rose to front pages of both Product Hunt and Hacker News, staying there for over a day. We received hundreds of emails and witnessed thousands of people tweeting about Movieo.